SCORE: Advance Your Reach for Entrepreneurs, Change Agents and Business Owners
Image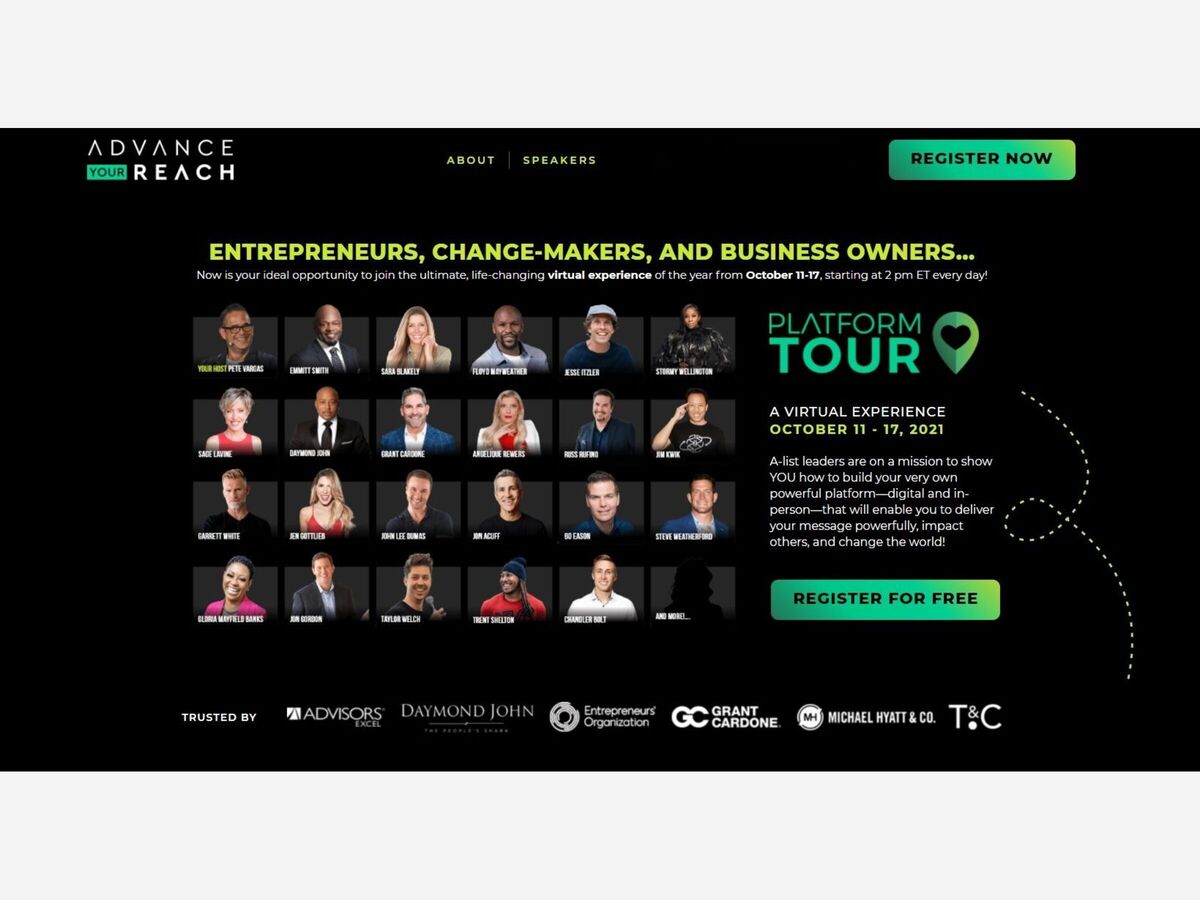 Last year over 150,000 entrepreneurs joined in virtually as people like Sara Blakely, Tony Robbins, John Maxwell and many others inspired the attendees on how to rise up in the midst of crisis.
This year, the entire theme is all about helping over 250,000 entrepreneurs know what it takes to Build their Platform. We believe if we can help you build your platform, you will control the microphone, and change our world.
The 30+ Celebrities & Influencers will give insights on what it takes to build their platform. Please join us in being a part of something really big that will make a great impact on our world! Learn more.

Platform Tour7-Day Virtual Event | October 11-17
Featuring over 30 powerhouse celebrities, influencers and thought leaders
Join In October 11-17 And You Will:
Learn from the experts, leaders, and entrepreneurs who have left their mark in the world. Discover how they've used their platforms and unique messages to impact millions!
Steal the blueprints for crafting the ultimate social, sales, marketing, and platform strategies. We know what works and we're going to share everything with you!
Get ready to make connections and engage with like-minded entrepreneurs and leaders who are looking to take control of their lives. And you'll also get exclusive access to our Facebook group to keep the momentum going!
Get exclusive training from industry giants to help you become the most-listened-to authority in your niche.
---
SCORE is a nonprofit association dedicated to helping small businesses get off the ground, grow and achieve their goals through education and mentorship. We have been doing this for more than 50 years. Because our work is supported by the U.S. Small Business Administration (SBA), and thanks to our network of 10,000+ volunteers, we are able to deliver our services at no charge or at a very low cost. Find out more about our Mission, Vision and Values.
SCORE - Small Business Administration
Virtual Events
https://success.advanceyourreach.com/platformtour-registration-score/
Columbus, GA
United States