BUILD BACK BETTER: What's Really In That Biden Administration Budget That Annoys 'Some' People? :-( Part 1
Image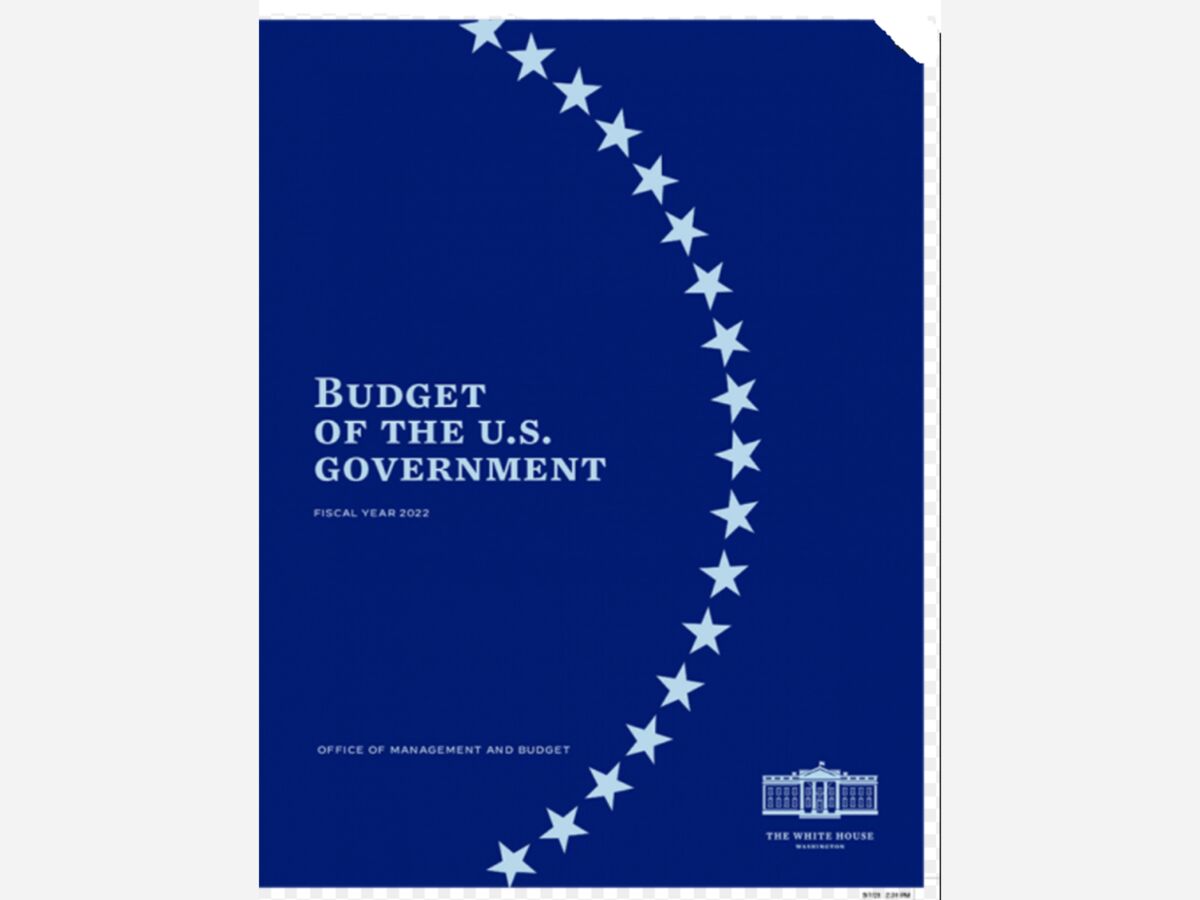 To the Congress of the United States:
Where we choose to invest speaks to what we value as a Nation. 
This year's Budget, the first of my Presidency, is a statement of values that define our Nation at its best. It is a Budget for what our economy can be, who our economy can serve, and how we can build it back better by putting the needs, goals, ingenuity, and strength of the American people front and center.
The Budget is built around a fundamental understanding of how our economy works and why, for too long and for too many, it has not. It is a Budget that reflects the fact that trickle-down economics has never worked, and that the best way to grow our economy is not from the top down, but from the bottom up and the middle out.
Our prosperity comes from the people who get up every day, work hard, raise their family, pay their taxes, serve their Nation, and volunteer in their communities. If we make that understanding our foundation, everything we build upon it will be strong.
...
There are many challenges ahead. But every time America has faced moments of testing, we have emerged stronger. And I believe this Budget will help us become stronger than ever.
I look forward to working with the Congress to deliver on this agenda this year.
JOSEPH R. BIDEN, JR., The White House
---
The American Jobs Plan
The Budget begins with the American Jobs Plan —an investment in America that would create millions of good jobs, rebuild the Nation's infrastructure, and position the United States to
out-compete China....The United States is the wealthiest Nation in the world, yet ranks 13th when it comes to the overall quality of the Nation's infrastructure. 
It would invest in Americans and deliver the jobs and opportunities they deserve.
Unlike past major investments, the plan prioritizes addressing long-standing and persistent
racial injustice. The plan targets 40 percent of the benefits of climate and clean infrastructure
investments to disadvantaged communities. In addition, the plan invests in rural communities
and communities impacted by the market-based transition to clean energy. Specifically ...
Fixes Highways, Rebuilds Bridges, and Upgrades Ports, Airports, and Transit Systems.
Delivers Clean Drinking Water, a Renewed Electric Grid, and High-Speed Broadband to All Americans.
Builds, Preserves, and Retrofits More than Two Million Homes and Commercial Buildings, Modernizes the Nation's Schools and Child Care Facilities, and Upgrades Veterans' Hospitals and Federal Buildings.
Solidifies the Infrastructure of America's Care Economy by Creating Jobs and Raising Wages and Benefits for Essential Home Care Workers.
Revitalizes Manufacturing, Secures U.S. Supply Chains, Invests in R&D, and Trains Americans for the Jobs of the Future.
Creates Good-Quality Jobs that Pay Prevailing Wages in Safe and Healthy Workplaces while Ensuring Workers Have a Free and Fair Choice to Organize, Union, and Bargain Collectively with Their
Employers.
Restructures the Corporate Tax Code to Ensure that Wealthy Corporations Pay Their Fair Share and Invest Here at Home.
---
The American Families Plan
To complement the American Jobs Plan and help extend the benefits of economic growth
to all Americans, the Budget also includes the American Families Plan—a historic investment
to: help families cover the basic expenses that so many struggle with now; lower health insurance premiums; and continue the historic reductions in child poverty in the American Rescue Plan Act of 2021 (American Rescue Plan).
Adds at Least Four Years of Free Education.
Provides Direct Support to Children and Families.
Extends Tax Cuts for Families with Children and American Workers.
Supports Tax Reform that Rewards Work—Not Wealth.
---
Reinvesting in the Foundations of the Nation's Strength
The American Jobs Plan and the American Families Plan represent once-in-a-generation investments in the Nation's future that would create jobs, grow the middle class, and expand the benefits of economic growth to all Americans.
Over the past decade, due in large measure to overly restrictive budget caps, the Nation significantly underinvested in crucial public services, benefits, and protections. Since 2010, non-defense discretionary funding has shrunk significantly as a share of the economy ... The consequences of this broad disinvestment are plain to see. Anticipating, preparing for, and
fighting a global pandemic requires a robust public health infrastructure. 
Yet, going into the COVID-19 pandemic, funding for the Centers for Disease Control and Prevention (CDC) was 10 percent lower than a decade ago, adjusted for inflation. Creating an economy that works for everyone—including rural, urban, and tribal communities—requires investments in working families who drive growth and prosperity. However, the Government has chronically underinvested in crucial programs such as Head Start, which serves 95,000 fewer children today than it did a decade ago. Responding to the climate crisis depends on helping communities transition to a cleaner future. Instead of investing in climate science and technology at the Environmental Protection Agency (EPA), funding has been reduced by 27 percent since 2010, adjusted for inflation. 
The President believes now is the time to begin reversing this trend—and the expiration of nearly a decade of budget caps presents a unique opportunity to do so. 
That is why the Budget includes targeted discretionary investments across a range of key areas—from improving America's public health infrastructure and improving education, to tackling the climate crisis and fostering economic growth and security, to restoring America's global standing and confronting 21st Century security challenges.
Overall, the Budget would restore non-defense discretionary funding to 3.3 percent of Gross Domestic Product, roughly equal to the historical average over the last 30 years, while providing robust funding for national defense as well as for other instruments of national power—including diplomacy, development, and economic statecraft—that enhance the effectiveness of national defense spending and promote national security.
---
Expanding Opportunity
The American Jobs Plan and the American Families Plan would boost worker productivity,
invest in American ingenuity, create good-paying jobs, and provide real opportunity and security for millions of families. Those plans are complemented by the Budget's additional foundational investments. Together, this suite of policies would contribute to a stronger, more inclusive economy over the long term by: advancing economic dignity, equity, and security for all Americans; expanding opportunity; and creating good-paying jobs.
Makes Historic Investments in High-Poverty Schools.
Expands Access to Affordable Early Child Care and Learning.
Boosts Support for Children with Disabilities.
Prioritizes the Physical and Mental Well-Being of Students.
Increases Pell Grants and Expands Institutional and Student Supports.
Expands Opportunities for Minority-Owned Businesses.
Increases Rural Outreach and Connectivity.
Spurs Infrastructure Modernization and Rehabilitation in Marginalized Communities.
Supports Transportation Equity.
Ensures Workers' Health, Safety, and Rights Are Protected.
Strengthens the Unemployment Insurance System.
Advances Equity in Child Welfare.
Extends Housing Vouchers to 200,000 More Families.
Accelerates Efforts to End Homelessness.
Enhances Household Mobility and Neighborhood Choice.
Supports Access to Homeownership and Pandemic Relief.
Invests in Affordable Housing in Tribal Communities.
Supports a [HIGH TECH] Future Made in America.
Renews America's Commitment to R&D. 
Reforms the Federal Criminal Justice System.
Invests in Community Policing, Police Reform, and Other Efforts to Address Systemic Inequities.
Invests in Civil Rights Offices across Government.
Promotes State and Local Efforts to Prevent and Redress Housing Discrimination.
Makes Major Investments in Environmental Justice.
---
Investing in Public Health Infrastructure
The United States faces no more urgent task than defeating the COVID-19 pandemic. That
is why the American Rescue Plan included vital funding to set up community vaccination sites nationwide, scale up testing and tracing, reduce supply shortage problems, support community health centers, address health disparities, and safely reopen schools. The Budget builds on this foundation by proposing investments to build a healthier, more resilient Nation over the long term, including funding to ensure the Nation is better positioned to prevent and respond to future public health crises, help defeat other diseases and epidemics, and invest in cutting-edge medical research.
Improves Readiness for Future Public Health Crises.
Expands Access to Mental Healthcare.
Invests in Efforts to End Gender-Based Violence.
Promotes Health Equity for American Indians and Alaska Natives.\
Addresses Racial Disparities in Healthcare.
Reduces Maternal Mortality Rate and Ends Race-Based Disparities in Maternal Mortality.
Launches Advanced Research Projects Agency for Health (ARPA-H).
Makes a Major Investment to Help End the Opioid Epidemic.
Combats the Gun Violence Public Health Epidemic.
Commits to Ending the HIV/AIDS Epidemic.
Next Up ... Tackling Climate Crisis