Visitor View: The Royal Crown Cola Museum
Image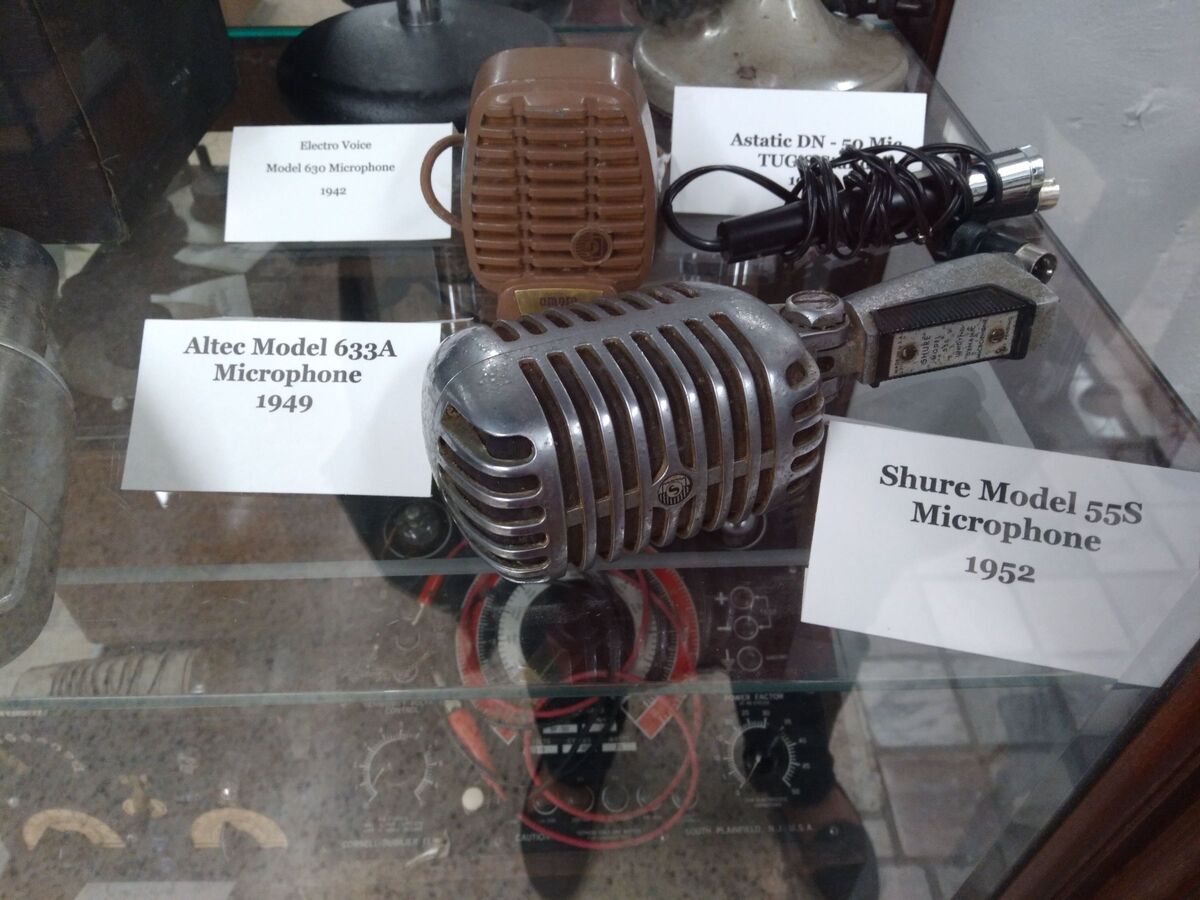 Whenever a person takes a walk or a quick step back down memory lane, it can bring back a flood of rushing memories, or maybe just a trickle ... depending on how much you remember and why it came back to you the way it did.
Columbus, (Muscogee County) Georgia is a very mixed bag of good, bad and ugly just like Everywhere_else, USA. It was never "all good," but it was never all that bad either.
When a person ...you or anyone....gets flashy spots of good memories, those are times when you need to hold on to those memories just to keep a true balance and stay sane. One thing is for sure above all else ... Royal Crown (RC) Cola and Tom Huston Peanuts-peanut butter crackers, peanut butter logs, as well as all those cheese crackers and every other snack we enjoyed the most as children still rings true.
RC and Nehi (my personal favorite Nehi flavor was orange) were two things we looked forward to in childhood back in the 1960s and 1970s.
Unlike Coca-Cola, where fussiness between rivals reigns about whether Dr. John S. Pemberton invented the Coke formula here in Columbus or further up north in Atlanta (formerly known as "Terminus") Georgia, RC and Tom Huston leave no room for arguments about where it was founded. 
This company -a huge symbol of this town's antebellum history- doesn't mind bragging about its roots.
No matter where RC and Tom Huston memorabilia show up across the nation, there will be no arguing about where it all started and why these historical companies should always be a source of pride for those born and/or raised here.
RC, later Nehi ... and Tom's Foods 'anything' for a snack was a tremendously happy place even for those of us who can't always "hug" or feel warm fuzzies about Americana-living in the deep South.
---
Inside River Market Antiques and The Lunch Box Museum, where retro toys and lunch boxes on display as 'antique' remind us of what we witnessed on school lunch tables, in our own grandmother's kitchens, on our mothers' bric-a-brac and "what-not" shelves, and there is even a beautiful square box record player with the diamond stylus needed just like the one I owned myself when I was just 12 years old.
The Georgia Radio Museum and Hall of Fame is a true hitmaker all on its own. Elvis Fans, there's even a little something there for you.
The Radio Museum does not include what "we" (local African Americans) would remember as radio history here in Columbus or elsewhere in Georgia - made mostly of WOKS-AM with "Handsome (Al Smith) Smitty Witty" -or- Greg Street of Atlanta's V103 network, or the pantheons of radio "gods" of our own youth- but there is no doubt about that feel-good moment in old box radio listening with its many push-buttons and turning knobs that were so new to us at the time ... yes, it is among the things we can all call very bright spots in our childhood days.
Back then, DJs didn't just click music from a playlist ... they were comedians, news announcers, commercial artists, some of them attempted to sing from time to time, and a lot of them were the biggest neighborhood gossips. They could spin a tall tale better than ol' Miss Betty Lue standing at your fence who couldn't wait to tell all the "bidness" her big ears could hold. Besides, we wouldn't hear it anywhere else if she wasn't so danged nosey.
We were listening, too ... "But you ain't get that from her! ..."
---
Yes, children and youth of today, your history books contain the memories, photos and stories of lives we actually lived less than 60-75 years ago.
The Museum is piled to the walls and wrapped around with vinyl 45s and LPs of recording artists and storytellers that helped ease us through some pretty tough times. If we couldn't afford to buy them, we borrowed them from the old Bradley Library and took them home to play on our record players.
There were special things that stood out to me, but I had to admit ... for children who grew up so poor and under such stressful circumstances as racial segregation, we were never truly deprived. 
Our memories often remind us that we weren't that much poorer than most people in Columbus, especially if we can remember having all this stuff and even remember owning a good bit of it ourselves. Struggle comes in all colors and ethnicities.
I saw my mother's old black silk clutch purse, my grandmother's whisks and egg beaters, her old washing board ... I had a moment where I could have sworn some of these items were found in the piles of stuff our grandfather threw out after she passed away in 1989 at the age of 84. She wasn't one to let anyone throw any of her "stuff" away, but he surely cleared the majority of it out after she was gone.
---
The one thing I wanted to take away from that museum and bring home with me ... was the antique radio microphone that the young folks now can only look at photos of or make retro look-alikes that will never be the same as the originals.
Along with it came a flashback of a time when I wanted to be Diana Ross in a long black flowing nightgown with pretty curls dripping all over my face as I floated to that mic and belted out the sultry and sensual sounds of whatever came out - probably something like or akin to "When I Fall in Love", in the style of Nat King Cole.
---
We need to take a moment out to thank God Almighty for the people who live among us who don't think 'every old thing' we toss out is trash. Some people call them hoarders, I call the ones who know a good antique when they see it "visionaries."
When we take these walks back down memory lane thirty, forty or even 50 years later ... we're actually happy and thrilled that all we thought was trash at the time became someone else's treasure.
We can remember and smile all over again.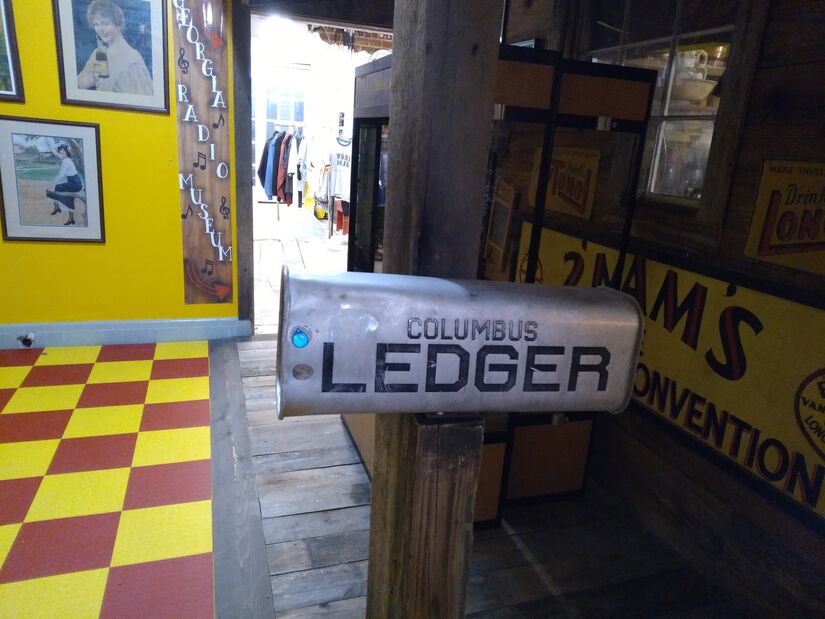 This Cola-Lunchbox-Radio-Toy-Game and Music Museum most assuredly made me smile and made my day, especially since the three most wonderful working years of my life were spent working at the Ledger-Enquirer.
I toodled about the newsroom that used to be on 10th Street where Pulitzer Prize winners walked ... and where the best news writers in the industry, in my opinion, lived and worked -- from Kaffie Sledge, Liza Benham, and Josiah Sumbry, who is also one of Columbus' most proficient and excellent area musicians and choir directors to this day; to Mary Margaret Byrne, Baxter Omohundro, Priscilla Black Duncan, Louise Smith, Claire Brannen, Jack Swift and so many others who were the highlight of my very existence in Columbus in the 1970s and 1980s.
Thank you, Mr. Allen Woodall, owner, and all the lovely folks with the warmest welcomes at the 
Royal Crown Cola Museum
3218 Hamilton Road, Columbus.
Hours 10 AM to 6 PM Monday thru Saturday. 
[706-332-6378]
~Cherished memories do a body good.~
***
REFERENCES
Historic Columbus Soft Drink Heritage Trail 
###